Pilot Parallel Pen 2.4 Mm Set With Cartridge
₹1,249.00
(inclusive of all taxes)
Parallel Pen Width Of Stroke Is From .5-2.4 Mm Refillable. By Using Two Pilot Parallel Pen, Each With Different Color Ink Cartridge, You Can Achieve Beautiful Gradated Lettering. It Can Effectively Be Used For Drawings, Calligraphy Illustrations, Name Cards, Menus, Gift Cards, Labels, Signatures & Musical Notations Etc Style, Beauty & Originality All At Your Figure Tips. Master The Techniques Of Pilot Parallel Pen & You Will Always Be Able To Express Yourself Creatively. The Pilot Parallel Pen Features Two Parallel Plates On The Nib Point For Beautiful, Sharper Lines.
Pilot Parallel Pen 2.4 Mm Set With Cartridge
Pilot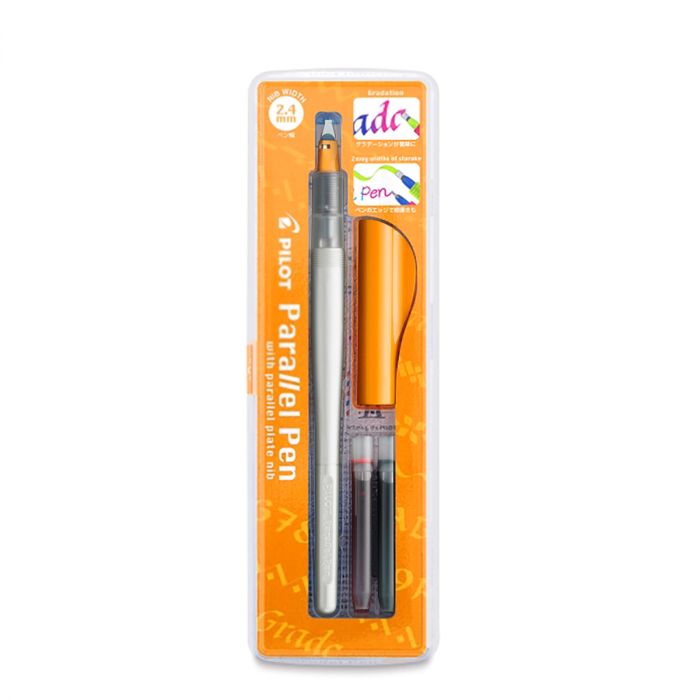 Width of stroke is 2.4 mm Refillable. By using Pilot Parallel Pen, with two ink cartridge, you can achieve beautiful gradated lettering. It can effectively be used for drawings, calligraphy illustrations, name cards, menus, gift cards, labels, signatures & musical notations etc Style, beauty & originality all at your figure tips. Master the techniques of Pilot Parallel Pen & you will always be able to express yourself creatively. The Pilot Parallel Pen features two parallel plates on the nib point for beautiful, sharper lines.
More Information

| | |
| --- | --- |
| SKU | 9000019353 |
| Family | Parallel Pen |
| Net Qty | 1 |
| Country of Origin | Japan |
| Manufactures Name | Pilot , Japan |
| Manufactures Address | Pilot Corporation, 6-21,Kyobashi 2-Chome,Chuo-Ku,Tokyo, 1048304, Japan |
| Importers Name | Luxor Writing Instruments Pvt. Ltd. |
| Importers Address | Luxor Writing Instruments Pvt. Ltd.,A-40,Hosiery complex, phase -II extension, Noida - 201305,Distt-Gautam Budh Nagar(U.P.),India |
| Brand | Pilot |
For Customer Complaints, Contact
Quality Manager
Address
Luxor Writing Instruments Private Limited
A-40, Hosiery Complex, Phase II Extension,
Noida-201305, District: Gautam Budh Nagar (U.P.), India
Email ID
Toll Free Number